Our goal is to ensure our clients are "exceptionally well taken care of." This mandate orients our thinking and directly influences the way we deliver advice to our clients: custom-tailored, highly-specialized, and extremely personable.
Here's our road map for meeting with you:
Meeting One
Vision & Intro
Care through developing chemistry and demonstrating curiosity
Meeting one is about discovery. We need to learn about you. As we do, you'll get to know us. We begin with a posture of asking questions and conducting an assessment to determine what is important to you.
In this introduction, we will ideally discover where you are and what you want your money to do.
Meeting Two
Obstacles & Organization
Care through uncovering blindspots
Meeting two is about going deeper. Our previous meeting allows you to share obstacles as you see them. This meeting allows us to find obstacles you may not yet see.
Your job will be to get organized: send tax returns, investment statements, insurance statements, corporate filings, etc. Our job will be to do an initial review to make observations and find the gaps.
Meeting Three
Process & Prioritization
Care through energizing action
Meeting three activates movement. You will be empowered as we engineer the specific framework for your spending, saving, giving and taxes.
We will also explain how we propose to invest your money, how tax optimization and asset location can benefit you, and how the Priority Roadmap will guide our future actions. By now, we will know where you are, this meeting helps you believe you can get somewhere new.
Meeting Four
Plan Presentation
Care through creating confidence
Meeting four is where we present the initial plan. At this point we will have learned enough, dreamed enough, and strategized enough, to provide a consolidated overview of your financial picture which helps to manage risk and plan for opportunities!
One of the best parts is that we can also begin to model out the "crazier" things that you've perhaps wondered if you can do, but haven't yet had the confidence to dive into.
Meeting Five
Odds & Ends
Care through ensuring awareness
We view this as a "synthesis meeting". Here, we will look at how all of what has been set in motion will intersect and all work together. In this meeting we'll cover any miscellaneous items like: an insurance review, a giving plan review, a corporate tax opportunity audit, etc.
Additionally, we'll also begin discussing what our ongoing relationship of care looks like moving forward.
---
Then, we establish ongoing care...
We have not arrived at a destination; we have begun a journey together. This journey prioritizes consistency and communication.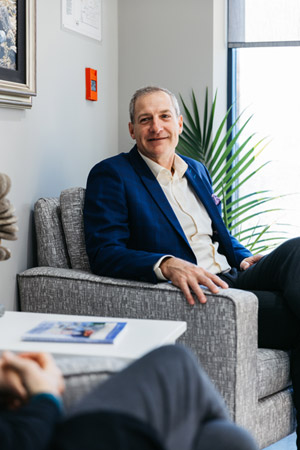 On our end, we want to be accessible and available. At the start of the year, we'll reach out to schedule an Annual General Meeting, where we'll continue to dig into who you are and where you're trying to go, as well as what actions we need to take to protect and support that vision.
We know that everyone's life has a particular rhythm, so we'll ensure regular reviews are structured to match your tempo, in order to maintain and maximize your success amidst the ebb and flow of life.
Additionally, we will periodically review and assess technical aspects of your financial situation and provide recommendations for any necessary changes. Our goal is to be there for you whenever you need us and to structure our business to support that.
On your end, we anticipate that you'll help us stay aware of the changes, challenges, and choices you are entering. Is your company nearly prepped for sale? Have you received a new job offer? Are you facing new challenges as you care for your aging parents? Are you expecting a baby? Are you starting to save for something meaningful for you or your family? Let us know so we can be there for you when you need us!